Follow the pattern of April Fool's Day history in the life of John Lennon!

1964--John Lennon met with his father, Freddie Lennon, for the first time in 17 years. The meeting was arranged at the London Nems offices and George and Ringo were also present. The reunion lasted 20 minutes.



1965--Despite the fact that The Beatles were scheduled to film scenes for their second movie, Help!, at Twickenham Film Studios, John's father, Freddie Lennon, showed up unexpectedly on the doorstep of John's Kenwood home. Suspicious of his father's motives, John was unresponsive and even hostile during the encounter. He opened the conversation with: "Where have you been for the last 20 years?" John found out that Freddie had been working as a dishwasher for a Hampton Court hotel. "His main objective was to rip off some cash from John," said Cynthia Lennon. Freddie stayed at Kenwood for three days, then John threw him out.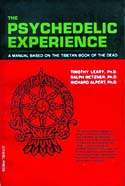 1966--John and Paul visited Indica Books and Gallery in Mason's Yard, London. John bought a copy of Timothy Leary's The Psychedelic Experience (a reworking of The Tibetan Book of the Dead). In the book's introduction he found the first line for the song Tomorrow Never Knows: "Turn off your mind, relax and float down stream."


1969--Back in London, after their week-long Amsterdam Bed-In for Peace, John and Yoko staged an impromptu press conference at Heathrow Airport. They also appeared on the ITV show, Today, to explain their honeymoon activities to the British public. John and Yoko said that they were "willing to be the world's clowns" to spread the message of peace, and that it was especially appropriate since it was April Fool's Day.



1970--John and Yoko issued an April Fool's Day press release that announced that they would be having dual sex-change operations.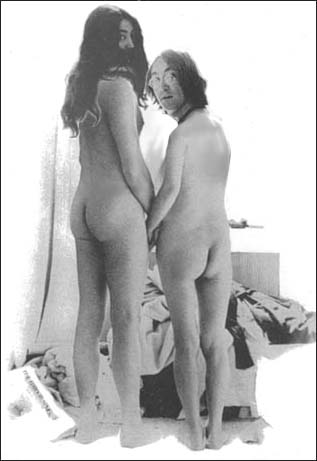 1972--John wrote again to Melody Maker, this time in response to the March 18 claim that "Marc Bolan was now as important as Lennon or Dylan and that people like Lennon and Jagger were now checking him out." John wrote: "I ain't never heard Jeepster, tho I heard and liked Get It On and his first hit. Anyway, we know where all these 'new licks' come from--right, Marc? By the way, Marc's checking us out not vice-versa! He called us, babe! Anyway, he's ok--but don't push yer luck. Love, Lennon, Ono."

1973--John and Yoko held a press conference to announce the creation of their conceptual community, Nutopia. John said that the national flag of Nutopia would be a tissue, which he and Yoko proudly waved. To read all about Nutopia, CLICK HERE.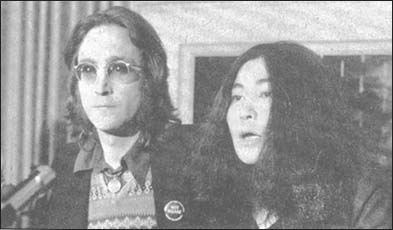 1974--After having attended, the night before, John Lennon's Sunday night jam session, Paul and Linda McCartney returned to John's rented Santa Monica beach house. John awoke at around 3 p.m. and joined a group of his friends who were relaxing by the pool. Keith Moon's friend and assistant, Dougal Butler, snapped a picture of John and Paul together poolside. This polaroid snapshot turned out to be the last photo ever taken of John and Paul together.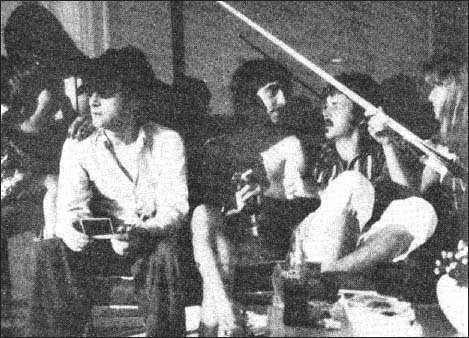 1976--John Lennon's father, Alfred 'Freddie' Lennon, died at Brighton General Hospital in England at the age of 63. John's relationship with his father, who had deserted him as a child and then showed up years later to sponge off of John's wealth, had been strained, but they had become somewhat reconciled in recent years. Over the final weeks of Freddie's life, John did what he could to make further amends: knowing that his father was dying of cancer, he had many trans-Atlantic phone conversations with him in an attempt to finally make peace.

1979--John hired a small yacht for a cruise around Palm Beach, Florida. Accompanying him and Yoko are Yoko's nieces Reiko, Akiko, and Tokato, as well as Julian, Sean, Fred's aunt, Helen Seaman, and the 12-year-old daughter of their Palm Beach real estate agent. (At the end of April, Julian returned to England; it was the last time he would see his father.)